Outrageous advertising and marketing, apart from being the title of Bill Glazer's book (in which I am featured, of course, along with loads of my client-work which is not obviously mine actually but is), is one of those things most business owners are too chicken to try.
Now, before we get any further let me make a point. And the point of outrageous advertising is not to be outrageous for the sake of it.
No, the point of outrageous advertising, like all advertising is to make you money.
End of.
Outrageous Advertising in the Real World
This video tells the whole story. It's worth watching, even though I suspect it'll make your toes curl and your eyebrows float upwards in horror and disgust, because it really is quite vile.
The whole concept epitomises what's wrong with the human race and tells me quite clearly and unambiguously that we're doomed.
Doomed, I tell you, doomed.
That said, as a technical study in outrageous advertising and marketing, it is quite without peer in my mind. Anyway, here's the vid. I'll share my thoughts about it with you underneath: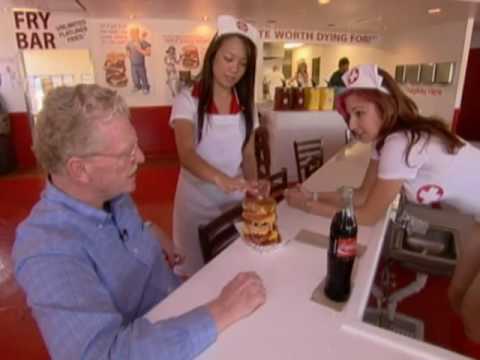 Now, regardless about how you react emotionally to the message, I do hope you'll see the power of this from a marketing point of view.
See, the first thing to realise is this isn't going to make a blind bit of difference to hear-attack rates anywhere. Apart from there being no such thing as "unhealthy food" per se (because there can only be "unhealthy eating habits"), I very much doubt there's a single soul in the Western world who doesn't know being fat and eating to excess is injurious to health and if left unchecked is a quick way to the morgue and a super-sized coffin (you want fries with that?).
Anyway, that aside, let's look at why this is such a powerful example of outrageous advertising.
1. It really is outrageous advertising… because it's causing genuine outrage
There are even some people out there who are saying this should be illegal and Someone Should Do Something.
Not only do I find that idea wholly repugnant because it's no one else's business what consenting adults choose to do to and with themselves or others, it's quintessentially pointless.
People really don't need encouraging to make stupid decisions any more than teenagers need encouraging to have sex (and how strange it is, when you restrict their access to contraceptives they don't stop doing it… they just get pregnant. Still, never let facts get in the way of a moral bigotry, eh?). In other words people do what they want to do, and outrageous advertising won't make them do it.
And the restaurant owner is very cleverly capitalising on this by seeing the objection and not only countering it but using it as an actual selling point.
The place is called the Heart Attack Grill, the dishes have names like "Single Bypass Burger" (as well as the Double, Triple and Quadruple versions), and "Flatliner Fries", and the serving staff are scantily-clad wenches with big tits and short skirts.
2. The restaurateur knows his market
And knowing your market is absolutely fundamental to your success as an advertiser or marketer. As Robert Collier said way back in the 1930s, writing profitable copy, ads and sales letters is about "joining in the conversation already going on in your prospect's head".
So, what conversation are the fatties having, especially as they really do, surely must know they're killing themselves?
Well, we can never know, but here are a few ideas – some just guessed at, and some surmised from conversations I've had with people myself over the years:
It's my choice. Butt out. True. Nothing more to be said.
I can't help it, I'm addicted. No you're not. You're just lazy and it's easier to blame something other than yourself for your condition.
People should just accept me as I am. Well, yes and no. You have the inalienable right to be fat; but others have the inalienable right to find you unattractive because of it. Deal with it.
Now, interestingly, the restaurateur is catering to all these people's attitudes by creating a club, a safe-haven where their self-destructive lifestyle is not only accepted but is actually validated.
Whether or not they're actually kidding themselves, are in denial or are sticking their head in the sand matter not: their lifestyle is being validated (and have you ever noticed how even friends and family will sometimes try and talk you out of doing things to improve yourself or your lot in life – maybe because it's easier to cling on to you and hold you back than it is to push themselves to do and be better?)
Never underestimate the power of giving people a chance to rationalise and feel good about that.
And let's not forget not just fatties eat there – I'd go there myself if I was in the area, just for the experience.
3. The restaurateur gives not a shit
You know the saying, "there's no such thing as bad publicity"? Well, with rare exception this is true (I highly recommend Alan Ruddock's biography of Ryanair's Michael O'Leary, A Life in Full Flight, as a classic example of someone who truly groks this).
And the owner of the Heart Attack Grill knows this – and isn't afraid to make a point of using it for his own benefit.
Fact  is, he knows while he's going to be pissing off, say, 98% of the population, he's going to be attracting the 2% with whom his message resonates. Here's a nugget of wisdom for you: outrageous advertising and being bold, brassy, loud and obnoxious polarises your audience and doesn't just winnow them out.
And why should he care about pissing people off? Because the ones he pisses off would never be his customers (sorry, "patients") anyway, would they? So why care what they think?
On the contrary by stirring up their hatred, loathing and indignation he's getting literally millions of dollars in free publicity.
Most business owners would be too chicken to do this, even if they could do it in what they think is an ethical way. I admit, I personally wouldn't do what this guy is doing myself, not because I worry about a bad rep, but because it wouldn't sit well with my own values.
I personally don't want to make money out of other people's self-destruction, but that's purely personal.
Conclusion
The final thing to note here is he's not being gratuitously outrageous – he's thought about this and knows exactly what he's doing. Too many people confuse being crass, loud-mouthed and boorish with having intelligently outrageous advertising.
In other words, outrageous advertising is about making more money by exploiting human nature, not just going for the shock-value in the hope of being 'noticed'.